Hold on! Hold on! That's not a teapot. Well, according to Cindy it might just be a teapot that's lost it's handle and spout. You have to read her story to follow along with this one -
click here
.
But let's cut to the chase. This week's destination is a young man who lives in the Bronx, is going through some medical difficulties, likes dogs - especially golden retrievers, and is a Yankee and Giants fan. Whew - how to tie that all together?
Not being a dog lover, I am limited on my choice of stamps. Here I have the image from D is for Dog stamped to hopefully look like a golden retriever (with shorth ears I think!). He is wearing his pinstripe collar as he too is a Yankee fan and no, you should not interpret this as the Yankees are going to the dogs even though they are in second place right now.
The little Yankee logo was part of the packaging from a key blank that we recently had made into a key for our house. Yes, we are Yankee fans! And Giant fans too so aside from not being a dog fan, we have some things in common with our destination this week.
I think I'm going to send him a picture with this card. This is the picture that I took of Derek Jeter when HWNSNBP and I spent our 30th anniversary at the old Yankee Stadium.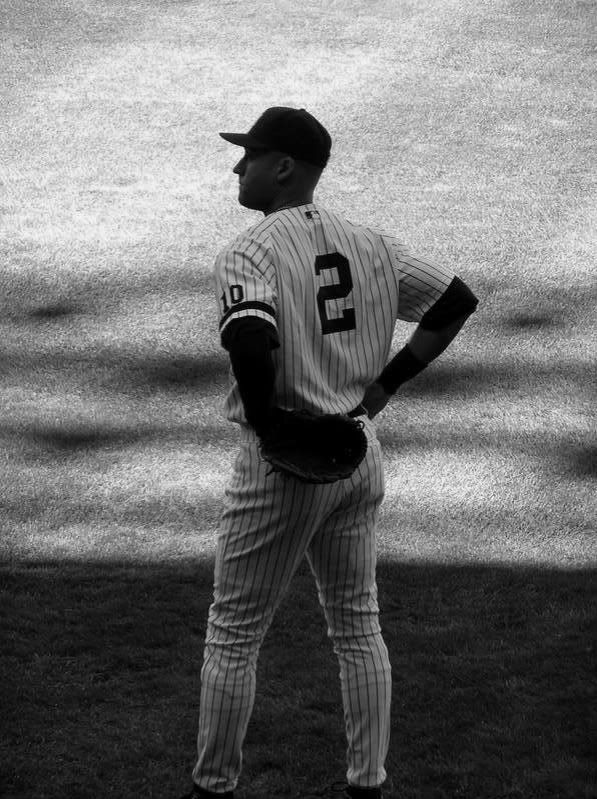 Okay, got the rest of the day free so I'm going to brave the steamy stamp sauna and try to get some projects finished.
I'll be visiting the gallery
here
later. I'm sure there'll be tons of wonderful sights to behold!